I saw discussion about Empress Elisabeth "Sisi" in another topic on the Disney Discussion forum and it prompted me to dig up this old chestnut I wrote for a different website. Europeans know Sisi and the Habsburgs but we Americans generally do not. Yes, this is history— but it's also a rollicking good story well worth a read! I so badly want somebody to turn this into a big budget Netflix show. The tale of Emperor Franz Josef and Empress Elisabeth starts out like a magnificent fairytale... but it ends with one of the most tragic events of the 20th century. The narrative essay below is based on my personal research I did for my own fun two years ago and I apologize for any inaccuracies— they are not intentional.

My fascination with Sisi all began when I saw this portrait by Winterhalter. It was the first time I'd ever seen a real Royal look like the fairytale Disney princesses I'd grown up with...
- UmbrellaFish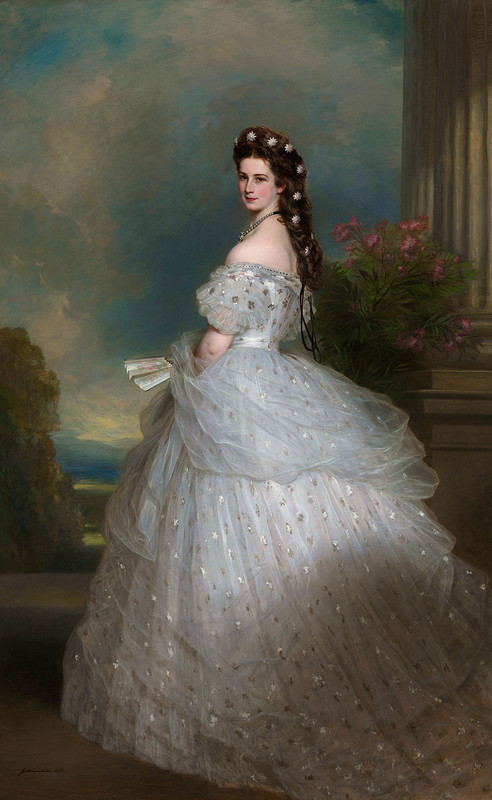 I was captivated the first time I saw her: Elisabeth, Empress of Austria. A real life Queen who looked like someone from a fairytale. Curious to learn more about her, I embarked upon further research, and I learned that she and her family's true story was actually incredibly tragic, sordid, and surprising— filled with infidelity, madness, and even murder. All this eventually culminated in the greatest war that the world had ever seen to that point. This is the story of the last of the House of Habsburg.‬
The Royal House of Habsburg was the name of the family who reigned over Austria and various parts of Europe from 1278 to 1918. In 1848, 18-year old Franz Joseph was crowned Emperor of Austria.‪ His path to the throne had been an unusual one. His uncle, Ferdinand I & V, was believed mentally unfit and eventually forced to abdicate after the people revolted. Franz Joseph's father was Emperor Ferdinand I & V's brother, and thus was next in line, but he was also widely believed to be mentally feeble. At the behest of his strong-willed wife, Princess Sophie, Archduke Franz Karl waived his rights to the succession in favor of their son, Franz Joseph.‬
Franz Joseph's mother, Princess Sophie, was a real piece of work. Having personally engineered his ascent to the throne, Sophie wielded great power over her son, and he was reticent to ever go against her wishes. In fact, ‪Princess Sophie had already arranged Franz Joseph's marriage to her niece, the beautiful Duchess Hélène of Bavaria. Sophie believed that the obedient and pious Hélène, who had been groomed since birth for an eventual marriage to the Emperor of Austria, would be the perfect match for her son, and an ideal Empress of Austria.‬
Princess Sophie, however, did not account for one thing: Elisabeth. Hélène's younger sister, Elisabeth, nicknamed Sisi, accompanied her and their mother to the Austrian spa town of Bad Ischl, where the young emperor was to be engaged to his first cousin, Hélène, in 1853. However, upon meeting the bridal party the Emperor took one look at the then 15-year old Sisi and was immediately captivated. The engagement plans for the Emperor and Hélène were immediately called off. Publicly humiliated, Hélène sank into a deep depression and even considered becoming a nun until she, too, eventually became engaged.
Sisi and the Emperor were married on April 24th, 1854. To Princess Sophie, the new Empress Elisabeth's union to her son represented the first significant threat to her control over her son. Sophie also grew quickly irritated with Sisi, who was unprepared for the strict and formal code of the Habsburg court. Sophie and Sisi would clash, and often.
Ten months after her wedding, the Empress became pregnant with her first child, a girl. After the baby's birth, Princess Sophie separated the child from its mother and insisted that she would supervise the infant's rearing. She even went so far to name the child— after herself.‪ One year later when Sisi would give birth to yet another daughter, Princess Sophie would again take charge of the child despite Sisi's resistance. This time, however, to add insult to injury, Princess Sophie slipped a pamphlet onto the Empress' desk, criticizing her for not yet producing a male heir to the throne.‬
‪Constantly unhappy in Austria, it wasn't until 1857 that Sisi would find respite in the nation of Hungary— one of her husband's many dominions. She took an instant liking to the culture and relaxed manners of the Hungarians, learning their language and becoming a lifelong advocate for Hungarian interests. However, tragedy would also strike on this blissful trip, when her eldest child, Archduchess Sophie, became ill with typhoid and eventually died. Thus, Sisi experienced her first bout with depression, which she would battle for the rest of her days.‬
‪Despite the Empress' melancholy, cause for celebration ensued the next year in 1858, when the Empress finally gave birth to the long-awaited heir: Crown Prince Rudolf. Nevertheless, the Empress remained in despair. Barred from both her children, and still mourning the death of her daughter, the only thing Sisi could control was her own beauty. She soon began a regimen of crash diets and extreme exercise, ultimately developing an eating disorder that would affect her the rest of her life. Meanwhile In 1860, rumors swirled that the Emperor was having illicit affairs with younger women. At the same time, the Empress was off to Portugal to recover from a lung disease, then thought to be tuberculosis. Historians now suspect her illness to have been psychosomatic, brought on by the stresses of court. Eventually, Sisi returned to Austria six months later for a short stay until she again became sick and was forced to leave for her health. Thus began a life-long cycle of traveling, further alienating herself from the Austrian court, as well as from her husband and children.‬
‪Meanwhile, Princess Sophie was distressed at the state of her other son, Archduke Maximillian. Growing up in his older brother's shadow, Maximillian was eager to prove his worth. In 1863, the Archduke accepted the offer of a small group of Mexican royalists to become that country's Emperor in 1863.‬
‪When Emperor Maximillian and his wife Charlotte, who had recently changed her name to the Spanish "Carlota," arrived in Mexico 1864, it was clear that many Mexicans opposed the establishment of a monarchy. This resulted in constant warfare between Republicans and the Emperor's forces. Nevertheless, the Royal couple attempted to make a positive impact in Mexico, introducing reforms and raising charity to combat poverty & inequality in the North American nation. Unfortunately, these reforms dismayed many of the Emperor's domestic allies, who were members of the upperclass. At the same time, the US, no longer embroiled in Civil War, began to supply the Mexican Resistance with arms, & floated the possibility of a US invasion to reinstate Mexican President Juárez.‬
‪With his domestic and foreign allies abandoning him, the Emperor went to battle against the Mexican Republicans. His forces defeated, Emperor Maximillian was captured at the Siege of Querétaro on May 16, 1867. Sentenced to death by military court marshal, the Emperor was executed by firing squad on June 19, 1867, sending shockwaves across Europe.‬
‪Before her husband's death, Empress Carlota had returned to Europe to seek support. With his demise, she went mad and was institutionalized. Back in Austria, the shock and grief from her son's death led to Princess Sophie's gradual withdrawal from court life until her own death in 1872.‬
‪Meanwhile, Emperor Franz Joseph was eager for Empress Elisabeth to bear another son to safeguard the line of succession. However, another pregnancy would have interfered with Sisi's intense beauty regimen that including the corseting of her 18 inch waist. However, in 1867, the Austro-Hungarian Compromise created the Austro-Hungarian Empire. This culminated in the coronation of Franz Joseph and Elisabeth as King and Queen of Hungary. As a gift to the country and people she so deeply loved, Empress Elisabeth consented to have a fourth child in 1868. Finally freed of Princess Sophie's influence, Sisi doted upon her daughter, Archduchess Valerie, who was deemed "The Hungarian Child." Spoken to only in Hungarian, and rumored to be the product of an affair between Sisi and the Hungarian Prime Minister (this was not true), Valerie would eventually feel smothered by her mother's devotion and would grow an antipathy towards all things Hungarian.‬
‪After the birth of Archduchess Valerie, Sisi would continue to roam throughout Europe. With his wife constantly traveling, Emperor Franz Joseph began an affair with Austrian actress, Katharina Schratt, in the early 1880's. Katharina was the Emperor's companion for the rest of his life. Relieved of her wifely duties, Empress Sisi even encouraged the match. Elisabeth and Katharina spent time together, exchanging tips and advice; Elisabeth even gifted a portrait of the Emperor's mistress to Katharina herself.‬
‪During this period, Empress Elisabeth spent much of her time with her cousin, King Ludwig II of Bavaria. A gay man, Ludwig had repeatedly postponed his engagement to Elisabeth's sister, Duchess Sophie Charlotte, until the engagement was finally called off. Prone to obsessive behavior, the King was deeply enamored with the music of Richard Wagner. King Ludwig II became his royal patron and even threatened to abdicate when the composer was forced to leave Bavaria due to his own scandalous behavior. However, today Ludwig II is best known for his extravagant castle building. His Wagner-inspired Neuschwanstein Castle was criticized for its style and cost during his day, but would eventually inspire Walt Disney's Sleeping Beauty Castle.‬
‪Disturbed by the King's peculiar private life, as well as his excessive spending, members of the Bavarian government ultimately decided to depose Ludwig II in June of 1886. Declared insane, the King was taken away from his beloved Neuschwanstein. The day after arriving at Castle Berg in June 13, 1886, Ludwig II and his private doctor went on an after dinner stroll of the castle grounds. Later that night, the former King and his doctor were found drown in a shallow pool.‬
‪The circumstances of King Ludwig II's death would remain mysterious. Ultimately deemed a suicide, rumors that the King was murdered continue to this day. Empress Elisabeth is said to have been haunted by visions of her cousin for the rest of her life.‬
‪Meanwhile in Austria, son of Franz-Joseph and Elisabeth, Crown Prince Rudolph, had come of age with his marriage to Princess Stéphanie. An unhappy man, his marriage left him unfulfilled while his relationships with both his parents were strained. Like his mother, Rudolf was sympathetic to Hungarian sensibilities, and even supported an independent Hungarian state. This caused him to clash with his conservative father, while he never maintained a relationship with his distant mother.‬
‪Despondent, Rudolf was obsessed with his own death. He tried to convince his mistress, Mizzi Kaspar, to commit suicide with him, but she declined. With her refusal, the Crown Prince turned to another one of his mistresses, the young Mary Vetsera. Described by her contemporaries as a "silly girl," Mary Vetsera believed that the Crown Prince was madly in love with her, and that due to the Church's teachings on divorce, they could never marry. When Rudolf proposed his suicide pact to her, she agreed.‬
‪On January 30, 1888, Rudolf and Mary secretly met at the Crown Prince's hunting lodge in Mayerling, Austria. Rudolf first shot his mistress in the head, and then himself, finally ending his life.‬
‪The sensational & disgraceful manner of the Crown Prince's death was immediately hushed up by the Austrian court. The Crown Prince's cause of death was declared as heart failure, while the Emperor speedily obtained special dispensation from the Vatican for his son's Christian burial inside the Austrian imperial crypt. On the other hand, Mary Vetsera's body was whisked away under the cover of night by her uncles from Mayerling Lodge. Transported in a carriage and seated between her uncles, a broomstick was placed up her back to keep her head from bobbing. At the time, it was believed that she had pulled the trigger herself, so her uncles had to convince the priests to give her a burial on consecrated ground on the stance that she'd killed herself due to "a momentary lapse of senses." The priests relented and she was given a simple, speedy Christian burial. Her mother, who was not allowed to attend the funerary services, would later recover Vetsera's body and give her a more permanent burial.‬
‪After the Crown Prince's death, Empress Elisabeth would go into deep mourning and would wear black the rest of her life. Her visits to the Habsburg Court became less and less frequent, while she blamed her family's history of mental instability for the demise of her son. Ten years later, Empress Elisabeth came to her own tragic end when, at the age of 60, she was assassinated by an Italian anarchist in Switzerland via stabbing. The assassin, Luigi Lucheni, had originally targeted Phillipe, Duke of Orleans, but after the Duke changed his travel plans, Luigi settled for another royal in the form of Elisabeth. After the stabbing, the Empress did not immediately realize the severity of her injuries, due to her tight corseting. When news of his wife's demise reached Emperor Franz Joseph, he first feared she had committed suicide. Later he said of Elisabeth, "You'll never know how important she was to me."
‬
‪With the death of his son, and later his brother, Emperor Franz Joseph's nephew, Archduke Franz Ferdinand, became the heir presumptive to the Austro-Hungarian throne by 1896. Franz Joseph's relationship with his nephew and heir was a contentious one. Archduke Franz Ferdinand was determined to marry Countess Sophie, a woman of lower rank than Ferdinand and thus unfit to be the wife of a future Emperor. Deeply in love, the Archduke would not relent, and finally Emperor Franz Joseph allowed their marriage in 1900. The Emperor did not attend his heir's wedding, and declared that any children borne from the match would be excluded from the line of succession.‬
‪
Archduke Franz Ferdinand and now Duchess Sophie had four children together. The married couple were riding together in Sarajevo on June 28, 1914 when Serbian nationalist, Gavrilo Princip assassinated the pair in their open car. Soon after the assassination, Emperor Franz Joseph would sign off on his government's plans to declare war on Serbia on July 28, 1914. Due to entangled alliances, the rest of Europe was swept into arms and the First World War began.‬
‪Emperor Franz Joseph died in the midst of the Great War on November 21, 1916, at the age of 86. He was succeeded by his grandnephew, Charles I, who would reign until the end of the war and the dissolution of the Austro-Hungarian Empire and its monarchy in 1918.‬