Good grief, the lack of screenshots for "my" characters is
amazing
. That's because they're not exactly well known, at least not the ones I like the best. Good luck finding so much as a sticker in a coloring book for any one of them. (Actually, some fare quite well enough in storybooks.)
The first Disney character I was ever compared to, as well as the first fictional character I was ever compared to, was
Pistol Pete, the little girl in between P.J. and Max. She was P.J.'s little sister, which of course made her Pete's daughter. Alack and alas, she only appeared in the
Goof Troop
series. Personally, I would have loved to have seen her grow older. We saw her brother, Max, and their friends grow up!
Of course, my animated identification is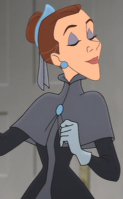 Lady Prudence, the majordomo of Cinderella's castle. She's my namesake, (older) look-a-like, identical twin in respect to so many traits, and so forth and so on. We even have the same solitary mutual allergy -- bee stings! Every detail recorded of Prudence is either directly there in to me or has an obvious parallel concerning me. When I first saw the previews of
Cinderella II
, I was stunned. I counted down the days to when I could find out just who "she" was. When I watched the movie's first episode for the first time, it was... eerie. Simply put, it was eerie.
I've also been compared to the following Disney characters, in alphabetical order:
~ Captain Amelia Doppler
~ Angelique
~ Ashley Q. (
Recess
series)
~ Carlotta (from the
Little Mermaid
musical version)
~ Colette
~ Cruella de Vil
~ Dixie
~ Eleanor (
Tarzan & Jane
series)
~ Jessie
~ Lord Grimsby
~ Queen Hippsodeth
~ Maleficent
~ The Matchmaker (
Mulan
)
~ Mirage (
The Incredibles
)
~ Rabbit
~ Roz
~ Queen Sarabi
~ Princess Ting-Ting
~ Ursula
~ Yzma
~ Zazu
Yes, that is a ridiculous amount. I've still never
seen
Dixie in her movie, and I honestly have no idea why people say I'm like Ursula. I've tried to match personality traits between myself and her, and it simply doesn't "click".
Pistol was my original Disney form, so to speak. Prudence is my main one.
Post Scriptum -
It's up to eternal debate whether I am more of a Daisy Duck or a Clarabelle Cow. Really, it varies according to the features both are in.