Update on Julie news!
Julie and Emma's latest book
The Very Fairy Princess Takes the Stage
has just been released and to promote it she'll be making the rounds at various booksignings and talkshows.
Good Morning America, May 9
Sirius XM Radio (11 AM), May 10
The Late Late Show with Craig Ferguson, May 18
She was scheduled for Live! with Regis and Kelly this coming Monday as well, but she's appeared to have canceled and now Chelsea Handler is taking her spot.
She will be signing copies of her new book at these retailers:
Book, Bytes and Beyond, May 10 3:30 PM
197 Rock Road - Glen Rock, NJ
Barnes and Noble, May 10 7:00 PM
86th & Lexington Ave
150 East 86th Street, New York, NY
Red Balloon Bookshop, May 12
891 Grand Avenue - St Paul, MN
Barnes and Noble, May 13
HarMar Mall, 2100 North Snelling Ave, Roseville, MN
information from
Julie Andrews Online
In other news, Julie was recently honored by the Geffen Playhouse with a tribute that included presenters such as Carol Burnett, Tom Hanks, Julia Louis-Dreyfus and Kristin Chenoweth.
<iframe width="640" height="390" src="http://www.youtube.com/embed/2Aol0iRC-0I" frameborder="0" allowfullscreen></iframe>
And a picture from the evening: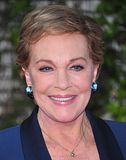 Before appearing at the Geffen, Julie made an impromptu appearance at the TCM Classic Film Festival to be on hand for a showing of her late husband Blake Edwards'
Breakfast at Tiffany's
.
The videos below come courtesy of a member of Julie Andrews Online who attended the showing:
<iframe width="640" height="390" src="http://www.youtube.com/embed/J9SsOKS23vo" frameborder="0" allowfullscreen></iframe>
<iframe width="640" height="390" src="http://www.youtube.com/embed/lnzGTz2MrrE" frameborder="0" allowfullscreen></iframe>
And before Julie stepped on stage, this lovely video tribute to Mr. Edwards was presented:
<iframe width="640" height="390" src="http://www.youtube.com/embed/eGyVPfvPIag" frameborder="0" allowfullscreen></iframe>