Thank you so much!!! It's the first time I tried staining something in addition to the decoupage and paint. One of the best things about working with craft store pieces like this is that there is minimal prep work, so you can spend most of your time having fun with the planning and decorating. For this one I had to rework the art quite a bit, to ensure nothing important got cropped off the edges or covered up by the drawer pulls!
Here's another old jewelry box I found in a thrift store. I could see it needed a lot of work, but I fell in love with the shape; the sloped top made it feel like a old-fashioned tabletop desk in miniature form!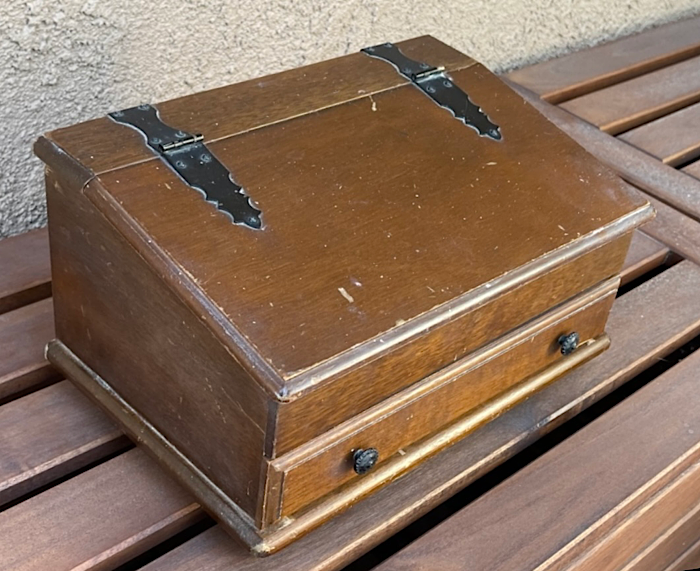 And since I'm guessing it was probably made in the 1970s, I thought Robin Hood might be a perfect theme. So I got to work on creating a digital drawing for it.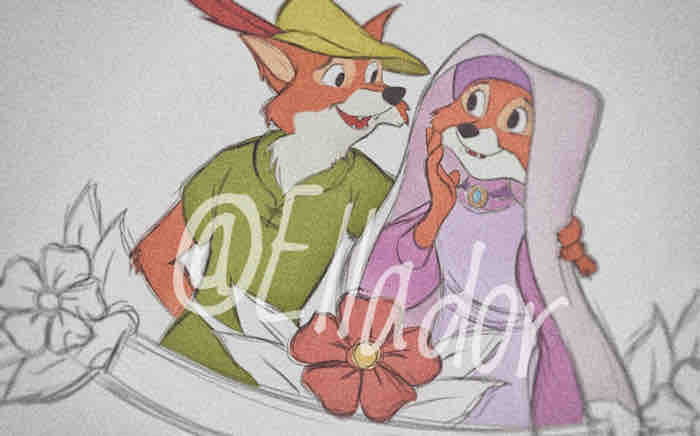 I felt the wood grain was pretty enough to preserve, so I decided to try making an image transfer this time. Mod Podge to the rescue again! After completing the drawing, I printed out a mirrored version on regular printer paper. I mixed a little white paint in with the Mod Podge, and painted directly over the printed areas.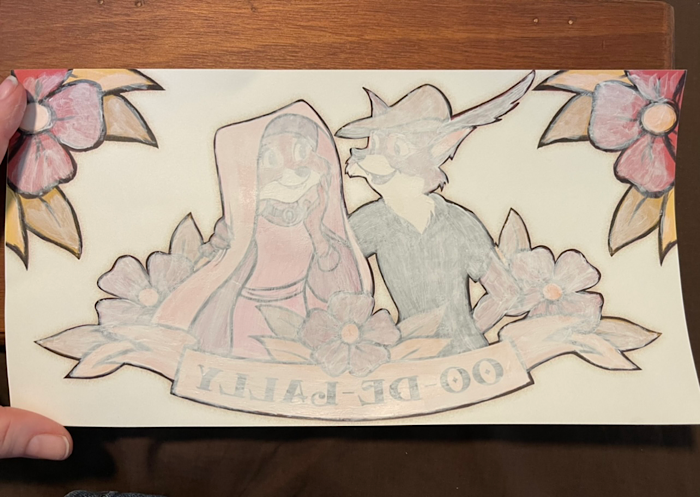 I let that dry, added another coat of plain Mod Podge (which is transparent when it dries), and placed it face-down on the wood. I then had to flatten it out as gently as possible, avoiding bubbles and wrinkles. After leaving it to dry overnight, it was time to carefully remove the paper, which leaves the toner embedded in the Mod Podge on the surface of the wood. I did this by dampening the paper and rubbing the fibers off with my fingers.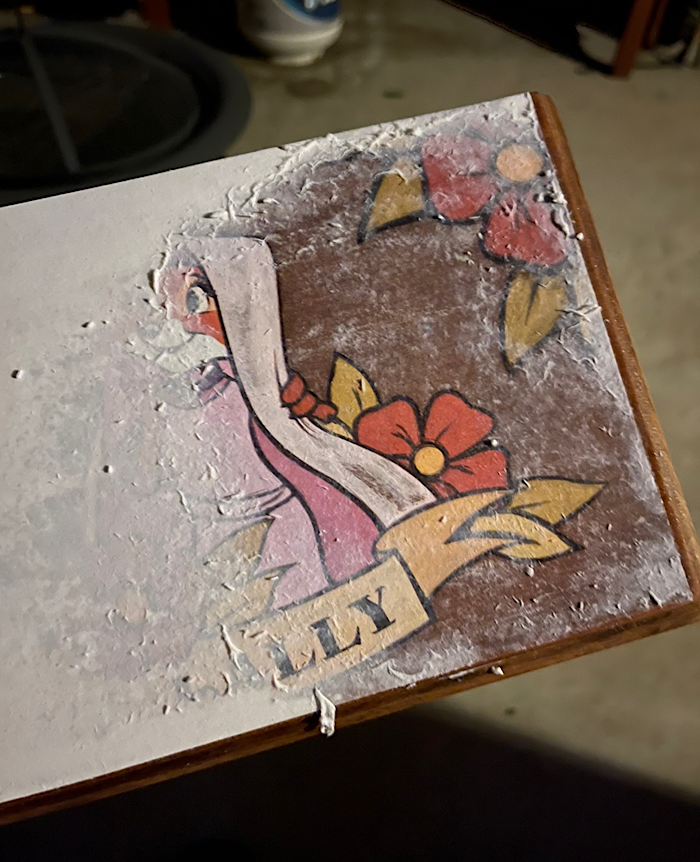 This part is a little time-consuming, lol. But I'm pretty happy with the result! I darkened the wood around the edges with some colored pencils before sealing.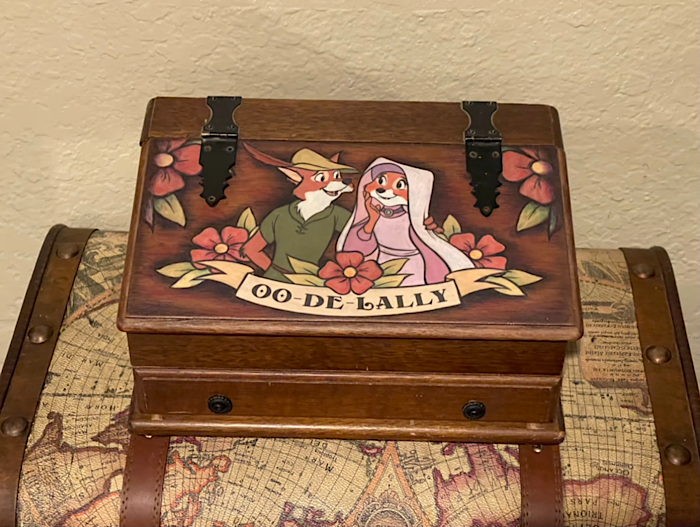 So this is an idea of how it'll look overall. From this point I still had to remove the velvet lining, which was in really bad shape and left behind a lot of glue that also needed to be removed. From here I had to strip off the old varnish, do some small repairs, and sand. But it the meantime, I had a fun idea …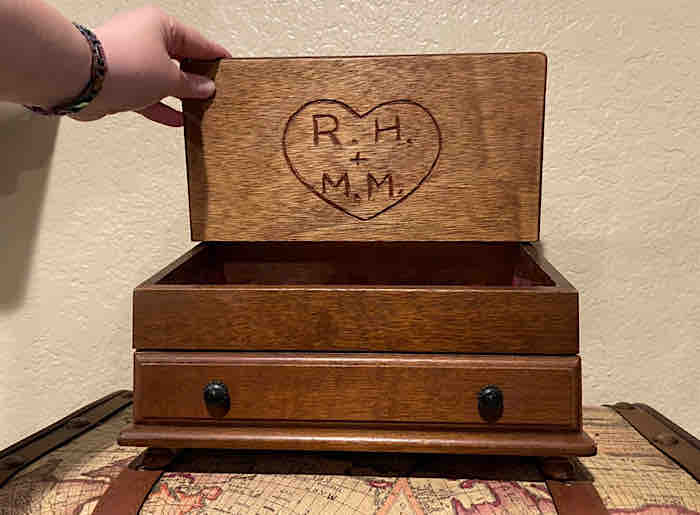 Yep, I grabbed a knife and literally carved their initials inside the top! And when I showed this to one of my friends, she fell in love with it and asked if she could buy it as an anniversary gift for her wife: Robin Hood is her favorite Disney movie! So I still need to treat and finish the inside and outside of the box; tonight Rey and I took it apart so we could sand the insides of the compartment and the drawer, as she'd like it all to be wood instead of re-lined with new fabric as I'd typically do.
The top is completely done, but here's the current state of the box itself: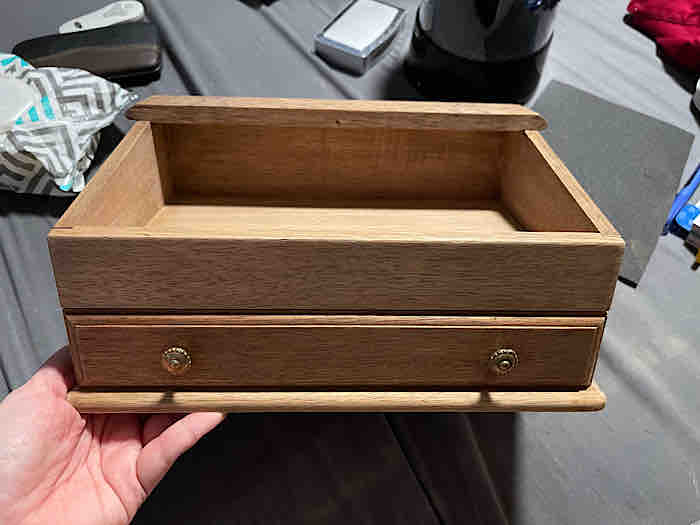 It's back to the unfinished wood, so tomorrow I'll be oiling and re-staining. I'm anxious to get this one done!