Decided to have a little
Scream
-era slasher triple feature last night, all first-time watches that appear to have been direct-to-video releases.
SPOILERS
(And a new feature; Trailers)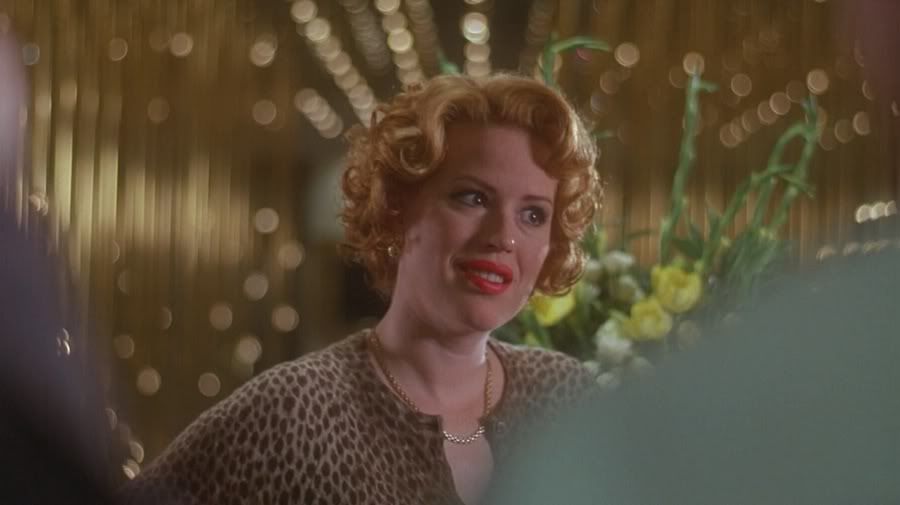 Cut
(2000 / directed by: Kimble Rendall)
Trailer
:
http://www.youtube.com/watch?v=T7rUpBUy7fk
It's actually pretty damn rare to come across a horror film of this low value. I can name off what worked about it on one hand. They clearly had a little money because it looks expensive enough and it must have cost a penny or two to borrow Apollo 440's trendy 90's hit "Stop the Rock." Molly Ringwald (who should have learned her lesson with
Office Killer
,
Citizen Kane
compared to this) has a total of 2 clever one-liners. And there's one death scene that comes as a legitimate surprise considering the character being killed had the most emotional development of anyone. The rest of the film is
pure
shit. It's so poorly written and staged that you will have extreme difficulty remembering names or telling one "character" from another. 99% of the bodies that cross your screen are there to be kill fodder and the death scenes aren't interesting in the slightest. In a vain plot to keep you from falling asleep, they throw in some unconvincing "bitchy" dialogue, Mtv-wannabe reality show horny losers gossiping about who's sleeping with who, face-clawingly painful attempts at psycho drama, pokes at "Hollywood" actress fussiness, and... someone actually utters the line "it's not as if we're in
Bride of Chucky
Part 7." For that line alone, this is one of the worst horror movies I have ever seen. Oh, wait, I started to forget about the film's killer. As the rest of the movie wishes it were
Scream
, there's a mask-wearing dildo (who looks like a bald scarecrow in Michael Myers' hand-me-downs) and... when de-masked, the film stops dead in its tracks, rips off
Nightmare on Elm Street
's Freddy Krueger and insists that the killer isn't a real person but an evil force created by bad filmmaking. That really says it all right there. Oh yeah, and Kylie Minogue has a cameo. Tragic.
Do You Wanna Know a Secret?
(2001 / directed by: Thomas Bradford)
Trailer 1
:
http://www.youtube.com/watch?v=jzLxb9tWM1A
Trailer 2
:
http://www.youtube.com/watch?v=wr-4ZyAZ2zg
This is by far one of the oddest teen slasher films I have ever encountered. I've heard rumors of
Cherry Falls
but have never seen it. Still, I'm not convinced that that film is odder than this. And since I'm making myself a triple feature out of these movies, it's quite an act to follow
Cut
- a film where the killer turns out to not be one of the red herrings they set up, but the film itself. No, it's not that odd that the killer turns out to be one of the victims having faked his death. The odd part is trying to make sense out of the killer's explanation. Apparently, he was poor and killed most of the
Mtv Beach House
victims because they were rich and flaunted it in his face. It gets better: he's also a religious nutjob who kidnaps the girl he considers to be the worst example of using money to become popular and tries to get her to marry him in a makeshift church wedding ceremony where all the corpses of "their" friends are propped up in the first two pews and the only other surviving cast member is tied up and serving as his Best Man. All the while, I can't get my mind off the fact that Chad Allen is in this film to any capacity and there's only one moment of homoeroticism between the guys of the cast of typical
Scream
/
I Know What You Did Last Summer
teens and he's not in the equation.
I truly hate to say the movie is a confused mess because it had so much potential, actually. The opening is a real howler and there are literally suggestions that we're in for a great campy ride. The first victim is this beefy blond guy and as he's bursting out of his tight t-shirt and jeans, the camera in the hallway is prominently displaying this big "BOYS" banner that clearly has nothing to do with the frat graffiti all over the place. It was a rational conclusion to come to when the next scene has Joey Lawrence buff-to-perfection in similar tight clothes trying to steam up the screen and shortly after that, he tackles a hunky black guy on his car and makes him say uncle (which in their language is "you're the greatest kickboxer in [some Florida city/town, I forget which]"). The next scene sets up the theme of the main bulk of the movie which is said Mtv satirizing I mentioned above (they even reference
The Real World
by name and shoot hanging-out hand-cam footage), shot in a very old-fashioned kind of way with a very 90's soundtrack.
In short... what were they thinking? The movie is stuffed with subplots. The main Reese Witherspoon-looking heroine is fresh out of rehab for going bonkers (very
The In-Crowd
, as was their idea to have a rave scene) and all the victims are, at first, guys she may have dated. Then a creepy detective (played by Jeff Conaway, less said the better) enters the picture and gets this scene by himself where it looks like he's weeping over a loss he's suffered... but we never hear or see anything about that again. When the cops threaten the group of teens with "don't leave the crime scene," finally everyone is fair game to die. And when girls start turning up dead, the cops arrest the black guy for no reason, all the while everyone is calling them out for being racist. Then, out of nowhere, the killer is seen tormenting a preacher and, we assume, his wife as they spout prophetic biblical-type dialogue. And... Chad Allen's character is straight. Confused? I know I am. But after that ending, I'm surprised I'm not walking around wearing gloves on my feet and a pot on my head. And yet, I have to say the movie was very interesting for a long time and not nearly as bad as it could have been. It's merely bad because it makes no sense. It still features very natural acting by most of the cast and some pretty clever dialogue.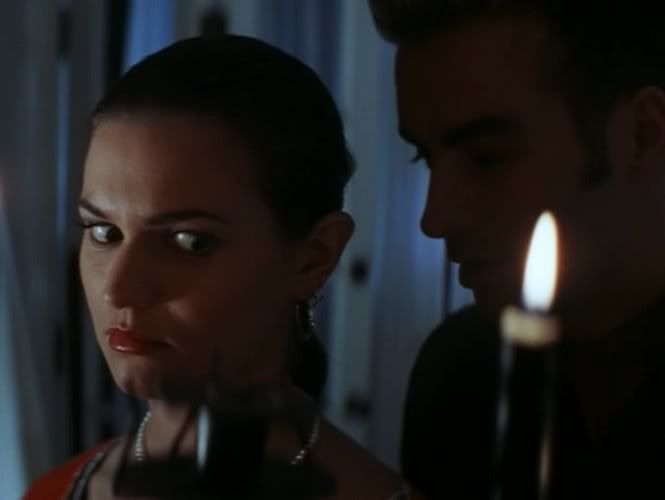 Final Stab
(2001 / directed by: David DeCoteau)
Trailer
:
http://www.youtube.com/watch?v=70kxjh8SvZc
Another classic case of a bodycount slasher film with too many names and too much stupid dialogue, characters designed to be instantly forgotten. This one is soap opera meets
April Fools Day
with DeCoteau's trademark stable of beefy, gorgeous guys. Only, sadly, 2 of which take any of their clothes off (while all the women remain pretty fully clothed). Which means the entire point of the movie is null and void. Oh, there's another masked killer (terrible mask) and lots of blood (in this case: yawn) and bodies here and there. Yawn. The acting is pretty good. But who cares? There's no originality anywhere and the stereotypes are very poor. 1 "Nice Girl," 1 Slut, 1 (self-proclaimed) "Queen Bitch," and about a dozen jocks. And all we get to liven the mood is a short-lived moment where 2 of the guys start talking about having experimented - with each other - in college. No flashback? Darn. Of course, then we have a potentially homophobic implication during the twist reveal that the "puppet master" guy might have killed the other guy to keep him from telling anyone they had sex. Anyway, it's so bad that you're going to have to talk over the movie with your friends to have any fun with it. There's a lot to mock and joke about. If only DeCoteau were in on the joke, likely he thinks this is the best work he's ever done since technically (and I'm talking lighting, camerawork, acting- not creativity), it's a large step up from
Voodoo Academy
. But, at least that film delivered about an hour's worth of hunks in their underwear.