What TV do you own?
I can tell you that my TV settings are Movie mode (or Filmmaker mode on some TVs). I have a 4K Samsung TV and these are my settings:
HDR:
Picture Mode: Movie
Backlight: 50
Brightness: 0
Contrast: 50
Sharpness: 0
Colour: 25
Tint: 0
Digital Clean View: Off
Auto Motion Plus: Off
Local Dimming: Low
Contrast Enhancer: Off
Colour Tone: Warm 2
ST.2084: 0
RGB Only Mode: Off
Colour Space Settings: Auto
Another question is how do you expect the film to look like? Because I know there are people who expect it to look like the laserdisc or the VHS, and I can say that it doesn't look like them (nor do I think it should). It's definitely brighter then them but less bright than the Blu-ray, but I don't find it pink and I think it has a better contrast.
I know there's the work-in-progress from the Blu-ray and some screenshots from an incomplete fan restoration that look even darker than the laserdisc/VHS (to the point where you barely see some of the backgrounds), but I never expected it to look as dark as them (also 35mm will have higher contrast and gamma - the difference will be similar to all the caps films, not just Beauty and the Beast):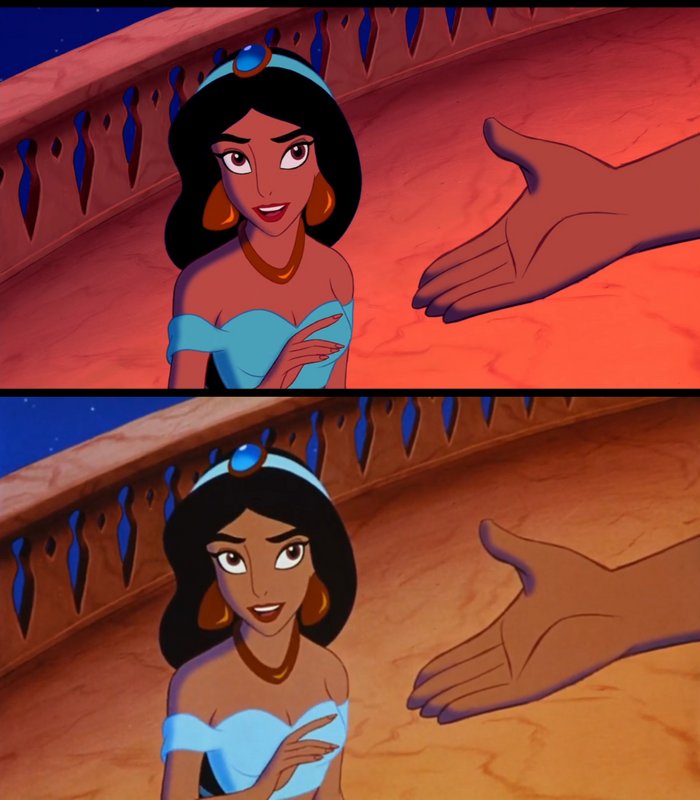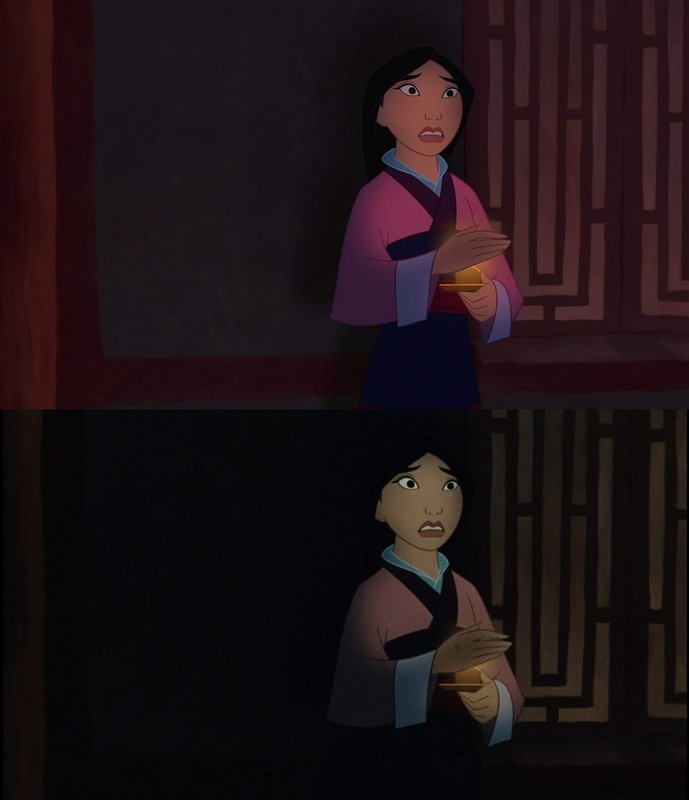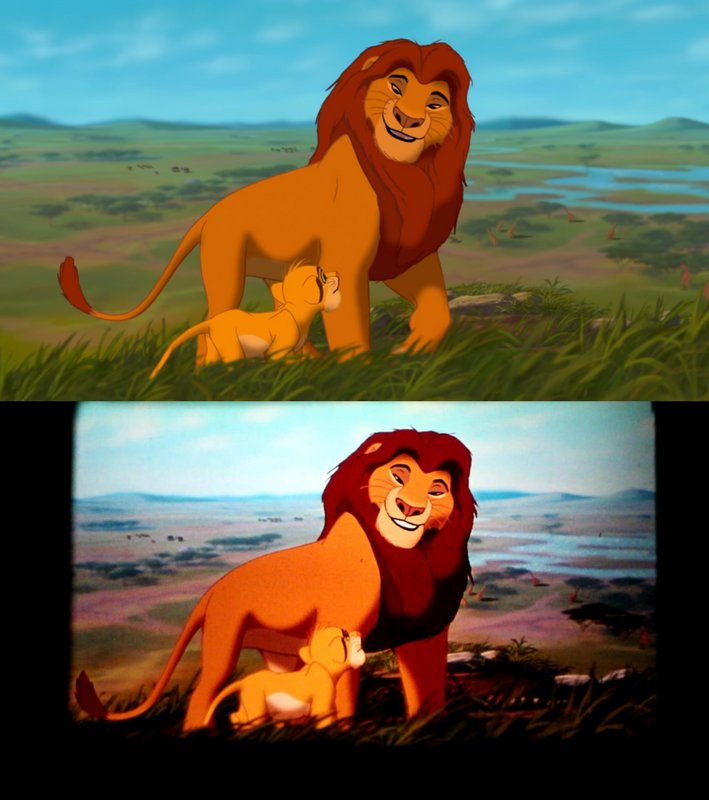 So no it doesn't look like the 35mm, but none of them do. I did watch the WIP with my sister the other day, and she said that the film was never this dark when she saw it in theaters back in 1992 (she was 13 at that time).
I did try to do some investigating with BTS features and the art book and such and this is what I found: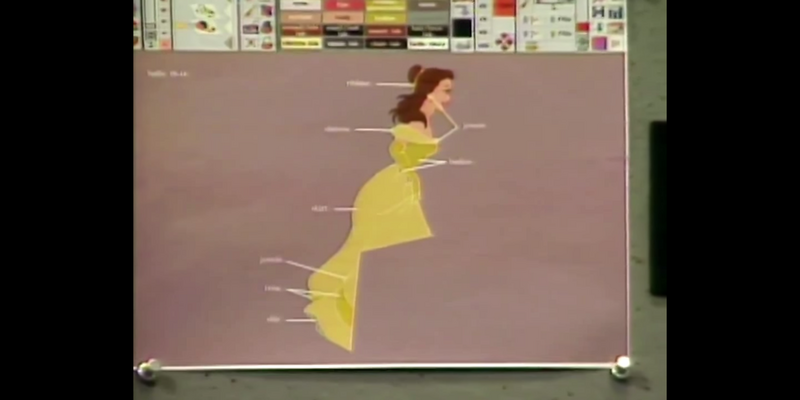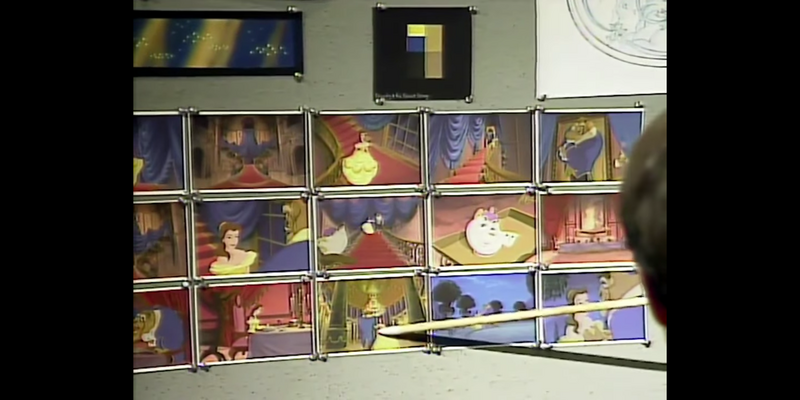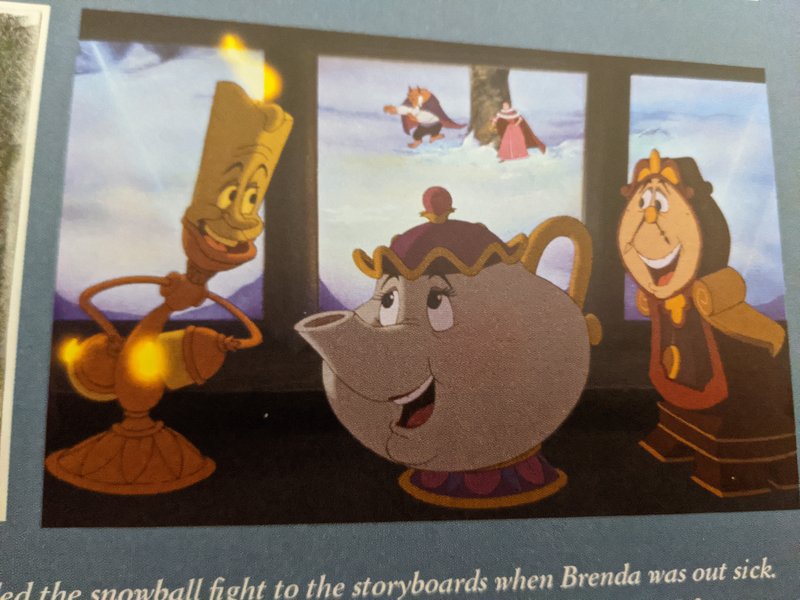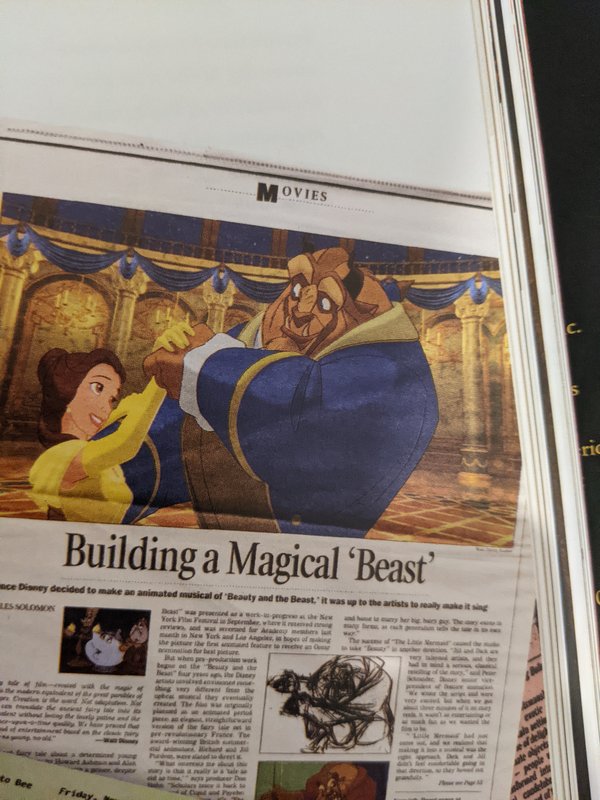 And I do think it is much closer to these than anything that was released prior, and it does resemble the DCP I saw in theaters two years ago.
I think I've researched this color issue since 2017, and I think in the end of day it has become very subjective, anyone has their own idea as to what Beauty and the Beast should look like. As for the HDR - I don't think that Beauty and the Beast was treated that differently than other CAPS films, I just think that the CAPS to 35mm transfer had probably more effects than other films, probably because it's the oldest film, so when I say that I think that the HDR is closer to what I think are the accurate colors, I mean what I think the colors were in CAPS, not in the 35mm (or the VHS or the laserdisc) (and it's true to other CAPS films as well). I do think the Blu-ray and Platinum Edition don't look good, mainly because they have the brightness increased and the gamma decreased (issues that I personally don't see in the HDR), but it has been almost 20 years of people complaining about Beauty and the Beast colors and transfers that I think people probably won't except anything that doesn't resemble the VHS/laserdisc, even though I always thought that the "correct" (I don't even know if it's a word that I can use in this situation anymore) way was something in the middle, meaning that it doesn't lack any shadows (like it does in the DVD and Blu-ray), but it also doesn't have "black crush", you're able to see the backgrounds and it still looks "lively" (which I thought were issues in the VHS and the laserdisc).
So like I've said before, I think in the end it has become a matter of taste and anyone should find the version they are most content with. I'm personally happy with the HDR (it might not be 100% accurate but I think most things aren't when it comes to Disney) I do think it's better than the Blu-ray, and I've watched the laserdisc for so long and I had issues with it as well that I'm just glad I can retire it now.