I guess some of you may be familiar with Cracked.com - they offer daily humorous articles about all sort of things, including pop culture. A few days ago, they ran this article:
In the Disney classic of the same name, Aladdin is a street urchin who goes from stealing food in markets to hanging out with the Arabian upper class in a matter of minutes after coming across a mystical lamp.
Life has gotten a whole lot better for Aladdin, his kleptomaniac monkey and his sentient flying carpet ... until the evil Jafar steals the magic lamp and uses it to become the most powerful sorcerer in the world. While no one in the movie ever thinks to ask the genie for infinite wishes, Jafar did the next best thing -- he's so powerful that he can now do pretty much anything he wants, from teleporting Aladdin across the world to transforming himself into a giant snake.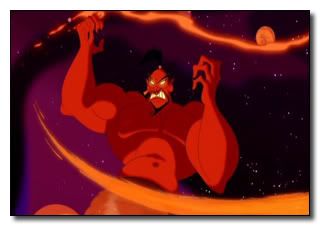 Yet for all his power, he could not master the shirt spell.
Things seem pretty hopeless, but Aladdin has one more trick up his sleeve. When Jafar proclaims himself "the most powerful being on Earth," Aladdin taunts him by pointing out that the genie is more powerful. Jafar uses his last wish to become "an all-powerful genie" ... and becomes trapped inside a magic lamp, just as Aladdin planned.
There's only one problem with Aladdin's plan: It was a stupid plan, and it shouldn't have worked. The success of the trick relied entirely on Jafar using the exact words that, by astonishing coincidence, he ended up using. If Jafar had said "I wish to be more powerful than the genie" or "I wish to be the most powerful entity in the universe" or pretty much anything else, then the heroes' situation would have gone from hopeless to ridiculously hopeless.
And yet Aladdin is so convinced that his unlikely, misguided plan will work that he pulls an expression that can only be described as the world's first troll face.
He actually spoke in misspellings.
Or, you know, Jafar could have simply wished for the genie (aka Aladdin's friend) to kill himself in the most gruesome manner imaginable, and he would have been forced to do exactly that. Had the villain taken a moment to consider his wish, the straight-to-video sequels would have been about Jafar continuously raping the Earth for the next millennium.
That was one hell of a gamble, Aladdin.
I never gave much thought to the final battle, but this article really intrigued me and I guess it made a legitimate claim against the ending.