yukitora wrote:
What I wonder is whether or not Rapunzel is getting another rehaul (I know this isn't a word but whatever
) or not.
I totally love that picture of the prince climbing up the tower, even if it is just concept art. I sincerely hope this film is still going to represent Glen Keane's initial vision.
That tower in the clouds with that prince was not his initial vision! I am so upset that his original vision, "old" now might be the new concepts we've seen, "new":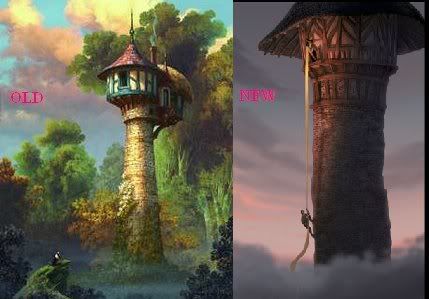 A lot of people love the tower so high it's in the clouds, but Snow White had a castle in the clouds at the end, Cinderella had one throughout, and even Sleeping Beauty went from castle to clouds in the end. The previous tower looked far more unique, gave the heroine more room up top, and was in a much more lush environment, that, in its cheeriness, makes sense for a witch who wants to keep her adopted daughter cheerful and safe from the world's evils.
An environment so rich it looks like there's butter between the strokes, as Glen Keane said he wanted. For more info, please check out this link:
Glen Keane's beautiful vision for Rapunzel
.
Amy
, John Lasseter actually...umm...either he submitted Miyazaki's Spirited Away for Best Animated Feature, contending with his own Monsters Inc., or he helped run the campaign for Spirited Away to win...I read something about hims doing something that helped Spirited Away win Best Animated Feature when he was also running for it with his own Pixar film. Can someone help me on this? But anyway, it shows maybe he does care about other studios even when they contend with his own films.
However, perhaps his order of who's the greatest, and who he loves most, is Miyazaki, Pixar, then Disney! Miyazaki's still making massive hits, movies Lasseter can love, while Disney ain't. He helped Spirited Away because he loved it.