candydog wrote:
I mean just try and put a straightforward adaptation of the movie on stage like they did with Beauty and the Beast. The story doesn't need rewriting, just adapting and fleshing out in a few areas. The sets and costumes don't have to be "cutting edge new design concepts" either. It worked for The Lion King, but that show had a full animal cast and a completely different setting. How about we have mermaids that look like mermaids? Fish that look like fish? Don't re-imagine The Little Mermaid, it doesn't need it. People just want to enjoy it. It should be familiar, but at the same time something new, without alienating its audience.
Yes, yes, yes. Exactly. Completely. They need to just do all of that, and the reason they think it needs to be different is just because of the Lion King.
Well, there is the small problem of making mermaids and sea creatures under the sea...hence why they probably think they can't be "literal", but Disney's always been good at making magical illusions, so, they should really just do that, make a really good illusion that actually looks like things swimming under the sea.
And The Voyage of The Little Mermaid was pretty good. If they just did what they did in that, a blacklit stage and certain parts of the costumes vibrant while other parts all black, that could work couldn't it?
There was a production of this show that used an idea like that, and it actually worked fairly well. Did it look professional? No. But it just needs more professional work to create the magic of an underwater tail.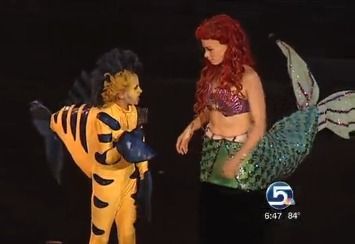 I'll be honest though, using wires for the swimming scenes is probably best, because then it creates more levels instead of the actors always being at the bottom of the stage in such scenes. And wires have to be used when she goes up to the ship and rescues Eric anway.
As for the wigs, does anyone think a wig that looked like this kind of hair would be good?: