I'm surprised no one's talked about the last huge amazing episode! Woah! Hm, well, I really liked what they did, except I didn't like everything in the exectution it, like I thought we could've seen Rumple getting worse to his son, too (because the only reason Rumple's bad is because of what he does to other people, it felt like he didn't want his dad back for himself but just to save other people), and I thought the kid could've been a better actor and Rumple could have acted more sad/devastated/enraged and I was worried that Rumple's story and even possibly the series was coming to a close way too fast but then, well, they really did a turn didn't they! Someone online said they thought that guy was...well, who he said he was to Rumple, but it sounds like that person got a leak about it beforehand, only to be wrong anyway. But now I can predict when his legs hurt, it's because
they're turning back to wood. He's dying because the Blue Fairy gave him, Pinocchio, the gift of life. Wonder how he got out of the Enchanted Forest though?
.
I am soooooooo really excited for the next episode I mean did you see the preview it looks incredibly epic!!!!!
Did anyone think the production values of this episode were the best they've been? Every special effect finally looked really good to me. And the Blue Fairy's costume looked better, too, though I still miss her original hair. Did anyone notice though, that if fairies can't lie as she said in this episode (didn't she?), she did lie when Rumple said "a curse" and she said "no"? I thought it was kinda funny the way she said that line though, heh heh.
Anyway, I decided to draw my own versions of her costume. I wanted to make those strips of dangling fabric that make a pseudo skirt look more like an actual skirt and the tutu look like a farthingale. I actually don't know if I did a good enough job, but I don't care for now.
The first one is meant to be how she originally looked, except with blue hair because she was always the Fairy with the Turquoise Hair in the original story and I think Disney actually should have done it that way originally and if she's based on the Disney version...you see why I chose that.
The next one is meant to be closer to the Disney version, and this time I tried to do her hair in between her Disney film's golden blonde and the original story's turquoise. I like how it came out. I also thought it made no sense for a fairy of stars and the sky and night to have roses (from the ground) on her dress, so I had stars (that still kinda look like flowers lol) on her skirt and on some puffy cloud-like things for her sleeves/dress straps.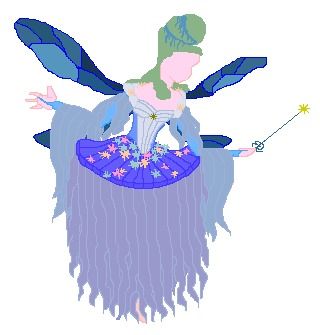 Finally, I did a version where her hair was turquoise again but with transparent sleeves and skirt and just stars as her sleeves/dress straps and the heart-shaped thing she has in the film, all to make her a combination of how she is in the Disney film and how I think she should have been with turquoise hair and a turquoise-silvery-white star wand tip. Whew!