Along with many other books being celebratorily released for Cinderella's immensely exciting Diamond Edition Blu-ray release are a calendar and a book with an original story for Cinderella, but using her makeover version along with backgrounds directly from or based on the film.
2013 Wall Calendar: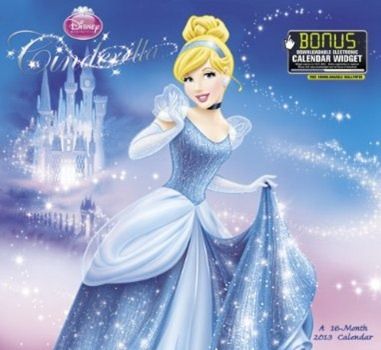 The calendar actually has really lovely images, though some of it with the writing feels a little vain and superficial, but who cares. They even wrote this description: "Fairy Godmothers take note: girls of all ages are going to love this calendar! Timeless, classic imagery is updated and transformed with artistic lighting and sweet sparkle effects that add an element of Disney magic." Artistic? Well, it is pretty. If only they did a calendar just as pretty but using the version of her from the film, or using brand new drawings based on the film, and different scenes.
The book is called "Cinderella's Shining Moment" where she celebrates her birthday with the Prince, and he hides a gift for her with clues to find it. It also has a 2 and a half feet big pull-out poster figure of Cinderella that you can decorate.
The cover shows what I think is a very beautiful lush background that looks just like the beautiful film, showing a forested path to the castle, though they took the castle right from a film image and they didn't do the turrets/battlements exactly like they actually are on the castle, but it's pretty anyway.